MADE NEW BLOG-PAGE ALL NEW INFO IS MOVING THERE
-BLOODBORNE NEWS-
~Game Details~
Introducing Bloodborne, the latest Action RPG from renowned Japanese developer FromSoftware, exclusively for the PlayStation®4 system. Face your fears as you search for answers in the ancient city of Yharnam, now cursed with a strange endemic illness spreading through the streets like wildfire. Danger, death and madness lurk around every corner of this dark and horrific world, and you must discover its darkest secrets in order to survive.
A Terrifying New World: Journey to a horror-filled gothic city where deranged mobs and nightmarish creatures lurk around every corner.
Strategic Action Combat: Armed with a unique arsenal of weaponry, including guns and saw cleavers, you'll need wits, strategy and reflexes to take down the agile and intelligent enemies that guard the city's dark secrets.
A New Generation of Action RPG: Stunningly detailed gothic environments, atmospheric lighting, and advanced new online experiences showcase the power and prowess of the PlayStation(R)4 system.
~Further Informations~
Masaaki Yamagiwa from Japan Studio wrote:Bloodborne takes place in an ancient, forgotten city called Yharnam, known for an old medical remedy. Over the years, many hopeless and afflicted people have made long pilgrimages to Yharnam in search of help. As the main character, you are one of these travelers.

However, you find that Yharnam is also cursed with a horrible endemic illness. You must navigate the perilous streets of this city, fighting off nightmarish creatures, malformed beasts and deranged mobs stricken with this horrific illness. Face your fears as you discover the secrets and mysteries of this dark and horrific world where danger, death and madness lurk around every corner.

In Bloodborne, the combat is based on intense life-threatening battles. One of the ways we are bringing that sense of danger to life is by keeping the deep strategic elements from Demon's Souls, while also transitioning from the passive and block-and-attack style of Demon's Souls to a quicker, more offensive and active combat style with close-range weapons and guns.

From the beautiful and melancholic architecture to the debris lining the street, Bloodborne will deliver an extremely rich and detailed world, all thanks to the power of the PlayStation 4 system. In addition, the PS4 system has allowed us to have an expanded draw distance, so we can show more of the world at any one time. New lighting effects allow us to add more atmosphere and tension to the game, making the horrifyingly detailed beasts and giant boss enemies you'll be facing even more frightening.
Director Hidetaka Miyazaki wrote:Creating Bloodborne as a completely new game on the new PlayStation 4 hardware has allowed us to really push the envelope in myriad ways. That being said, in more ways than one, it also very much retains our distinct, signature style. As has been at the core of our development philosophy since Demon's Souls, we make true games for people who love games. Please watch for more to come on Bloodborne, and thank you very much for your support
Latest info from Famitsu via NeoGAF
- Spring 2015 release window
- They started work on this right after finishing Artorias of the Abyss, planning it for Sony's new hardware
- The world and story is completely new, and the setting takes full advantage of the PS4′s capabilities
- The expected spec for the game is 30fps at 1080p
- The keywords for the game is "blood" and "beast"
- There will be melee and long range weapons (guns) this time
- Character customization is confirmed
- There will be no map display in the game
- He wants combat to not just focus on action but also the strategic element
- The combat in the game is designed to feel like a life or death struggle
- There will be online elements of some sort, and it will involve players "discovering" together
"From what people who read the leaked Famitsu have said it's going to be kind of a side game to the Souls series and more low fantasy compared to high fantasy."

"They are replacing magic with gadgets, guns and such. Main mechanic seems to be related to blood and blood is also used to regain your HP and gain various other benefits."

"You get blood sucking it from corpses or items. Sucking too much blood will turn you into a beast which I suppose is this game's Soul/Hollow form. The game will apparently become a lot harder to play/control when in beast mode. To become a human again you need human blood and is where the online component comes into play," reads the details from Famitsu as translated by NeoGaf user.
~News and Articles~
11th June
Destructoid's article
Hidetaka Miyazaki wrote:"If you remember the Tower of Latria level in Demon's Souls, that's the kind of atmosphere we want to create with Bloodborne."
12th June
Gamepur demo early impression
**NEW** 11 things you need to know about Bloodborne on PS4
**NEW**BLOODBORNE TWITTER:

E3無事終了。次はGamescom、そして東京ゲームショウで会いましょう。( E3's finished, but next up is gamescom and then TGS. See you there. )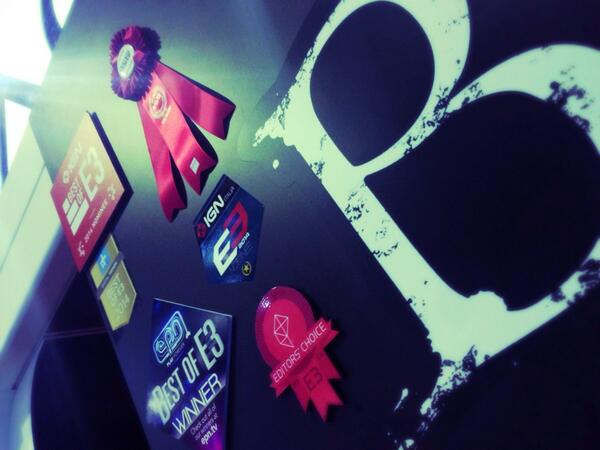 13th June
**NEW** Gematsu's article - Bloodborne's Victorian inspirations influence both setting and gameplay
14th June
**NEW** 山際眞晃Masaaki Yamagiwa TWEET:

An article of Bloodborne appeared in the newspaper "USA TODAY".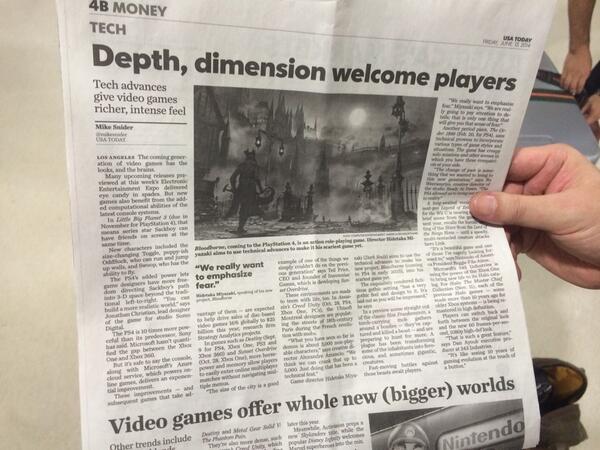 **NEW** Bloodborne TWEET:

ダブル表紙です。"Bloodborne" is appearing on the cover of Japan's largest gaming publications, Famitsu and Dengeki PS.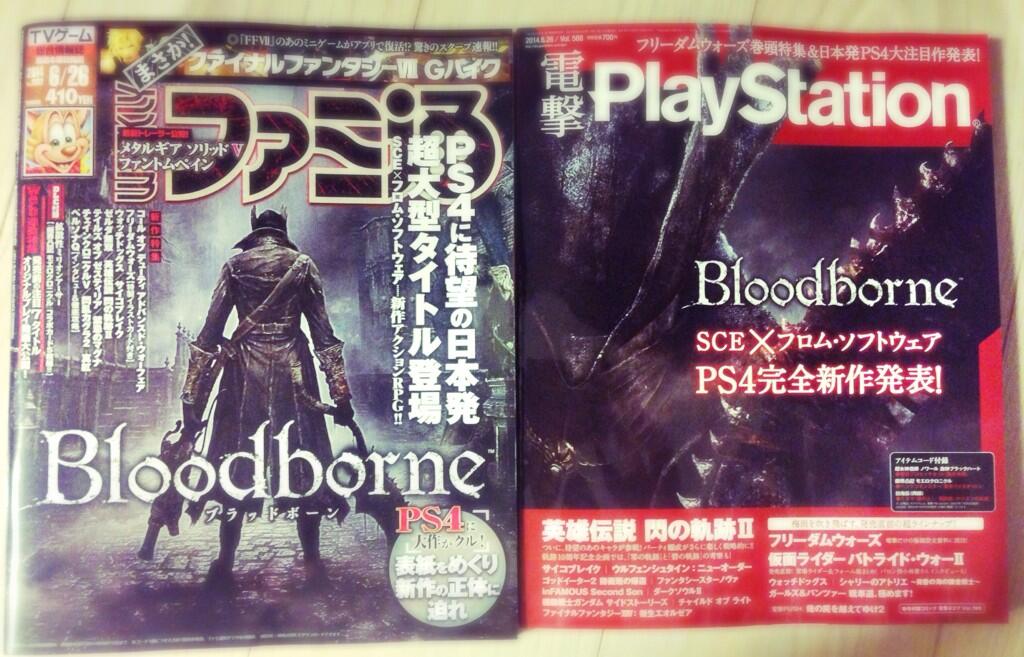 ~Screens~
Screen #1; Screen #2; Screen #3; Screen #4; Screen #5
**NEW**~Artworks~
Artwork #1
~Videos~
Video #1; Video #2; Video #3
-Project Beast Unreleased Trailer-
**NEW**Bloodborne - Project Beast (Unreleased Trailer Theme Remake)
Japanese official site (if anyone is interested)